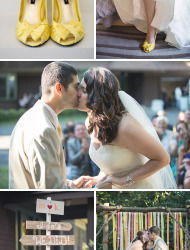 Isn't it just so fitting that two people who fell in love on a date to a festival would throw such a whimsical and lighthearted wedding in their backyard?  
Sixpence for your Shoe
did an amazing job planning this special day and the multitude of pretty sorbet-colored ribbons are the cherry on top. You cannot help but smile at the images shot by
Read more...